Getting your head around marketing a new business can feel overwhelming and demotivating if you're a complete beginner. Especially if you believe that you're directly competing against giant household names that have been in your industry for decades.
However, that's simply the wrong way of looking at marketing your new business venture. As we'll explain below, there are so many opportunities before your that the world is your oyster!
When you found a company, you've got an ace up your sleeve that nobody else shares, not even the largest competitors: your USP.
No matter what type of products and services you're selling, you have the opportunity to stand out by leveraging what makes your company different from other businesses and, most importantly, showing it to your specific target audience.
10 Game-Changing Tips on
Marketing a New Business
Let's help you do this the right way with the best marketing strategies for new businesses to deploy.

1. Know exactly who you're targeting by creating buyer personas
Would you seriously try to get the attention of your spoiled, picky cat with dog food?
Likewise, if you want to carve out a piece of market share for your business, you must know exactly who you're talking to and what they care about.
That's why we recommend creating buyer personas for your target audience. Psst: it's just a fancy name for a fictional person embodying the characteristics of your dream customer.
After all, 90% of companies that rely on them develop a clearer understanding of their audience.
Start by thinking of their age group, location, occupation, income, and, most importantly, what problem of theirs can be solved by your product or service. Then, research their online habits: what social media channels are they most active on? How do they usually look for and buy products?
Once you've done that for every segment of your target audience, give a name to each of them and, why not, use a stock photo to remember them.
2. Being social is one of the most important new business marketing techniques
As a new company, you can't afford to avoid investing in social media! If you've considered them but got put off by the fact that they look oversaturated, think again and create your business accounts right now.
Sure, your competitors will already have many more followers, but, as the new kid on the block, you can still find your own space and even aim for higher engagement rates.
The trick is to diversify your efforts across a few different channels without going overboard (let's start with three!), as long as your audience's favourite platform is in the mix.
Don't forget that your social media strategy shouldn't be all about promoting your products and bragging about your achievements.
It's your chance to bring value to your target audience by creating high-quality content that informs them or entertains them. Only 20% of your posts should involve direct promotions!
3. Make SEO & local SEO a priority
If you build your business website without search engine optimisation in mind, it might still look awesome, but… who's going to find it?
Creating or investing in an SEO strategy is essential when marketing a new business. It helps you be found on Google and other search engines but not just by random users: by your dream customers!
Find the keywords that best describe your business and products, and don't be afraid to go niche.
If you sell sports shoes, it might be virtually impossible to rank higher than Nike and Adidas for that keyword. However, if you aim for 'vegan running shoes', you'll have a strong advantage since neither of those companies focuses on that niche.
You should also consider local SEO so that people typing queries like '[your type of business] near me' or '[your type of business] in [your city]' can find you.
Don't forget to add your location to your website and connect it to Google My Business and other relevant directories for your industry.
But SEO goes beyond keywords and location. You need to take UX (user experience) into consideration, too: does your website load fast? Does it look just as fabulous on phones as it does on your desktop?
4. Blog on your business website
Do you know which marketing strategy results in an average of 434% more indexed pages, 97% more backlinks, and 67% more leads? This heading has probably taken away the element of surprise, but… yes, a blog!
We're not talking about cringy MySpace profiles where you talk about your day like we all used to do in the early noughties, but a blog page on your existing business website.
Creating a content marketing strategy is key!
Similarly to what you do on social media, you're giving out free content that educates your readers on relevant industry-related topics, entertains them, or gives them the answer to their pressing questions.
By doing so, you will attract and retain a wider percentage of your target audience and rank higher on search engines by targeting many more keywords (after all, every blog post is a new page).
With the right content marketing strategy, you can also convert those leads into paying customers and establish yourself as an expert in your industry.
This is one of the best marketing strategies for new businesses because it allows you to stand out even against competitors that have been trading for longer but never bothered to share their expertise or start a conversation with their audience.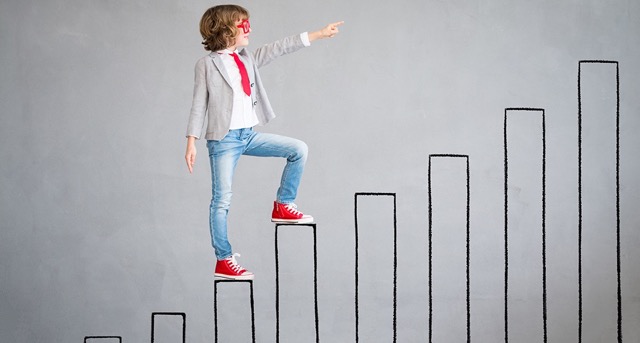 5. Don't forget about video
Pictures are still cool but video is now users' favourite type of social media content from brands.
With the rise of features like Instagram stories and reels and video-based platforms like TikTok, it shouldn't come as a surprise.
And yet we're still startled to see how many companies ignore this medium!
Outstanding video content can be one of the most effective marketing strategies for both new and established companies. It captures your users' attention, has the potential to go viral on socials, and can help you express your concepts in a more immediate way.
But video doesn't have to end on social media: you can use it on your website too, both on landing pages and blog posts.
6. Use pay-per-click (wisely)
We know your budget is likely to be your Achilles' heel. While chucking money towards random advertising efforts can be the arrow that hits it, a conscious pay-per-click strategy doesn't have to.
Again, instead of becoming white noise—and wasting money—by trying to please everyone, aim for your target audience by creating a PPC strategy with ads that really speak to them.
Don't forget that you're only charged when someone actually clicks on them.
If, say, someone is googling 'vintage cotton socks', it's highly likely that they're ready to buy a pair. If you've targeted the right audience (see why you need buyer personas?), it'll definitely be worth it.
7. Personalise your emails
Every time someone lands on your website, it's your chance to convert what could be a quick visit into a strong lead. To do that, though, you need to get their email address, or else they'll leave and forget about you.
Once you've captured it—for example, you could offer them a discount or a downloadable product—you can send them your newsletter.
Still, you don't want it to sound like you're talking to yourself or an impersonal crowd: address your reader directly and talk about things they care about!
It's not a coincidence that 74% of marketers swear by targeted personalisation, saying that it definitely increases customer engagement.
Use their names, talk about their problems, and show them how your products can solve them.
You can also use your email marketing strategy to direct them to your blog posts or include a few titles in your newsletter to show them valuable content that they might have missed out on.
Would you like to grow your new business?
If you need help with scaling your business up or simply need more leads, contact us today.

8. Create a referral or affiliate programme
Let's say you're walking down the street and a sales representative stops you to convince you to buy a holiday package. Are you going to trust them?
Probably not.
But what if your best friend tells you all about how that holiday package has saved them lots of money and made their booking process much easier?
More likely, right?
This is just human nature: we are more prone to believing or entertaining an idea if it comes from someone we trust.
That's how affiliate marketing has revolutionised the digital world, generating between 15% to 30% of all sales for brands!
Reward the customers who refer a friend to you by giving them a juicy discount or other perks and create an affiliate programme for bloggers who want to promote your products.
9. Harness influencer marketing and online reviews
For the exact same reason (people trust recommendations that come from those they already trust) you should consider tapping into influencer marketing, especially if you're a B2C business.
49% of consumers rely on their favourite influencers' recommendations, so why not get them to endorse your products?
Obviously, approaching the biggest names with millions of followers would involve a substantial upfront investment but micro-influencers in your specific niche can be a much more beneficial and cost-effective solution.
With an average cost of $10 per post for 1000 followers, a micro-influencer with 5k engaged fans can help you market your business successfully: they'll put your products right in front of your dream customers' eyes even when you still have a small following on your company's socials!
10. Run an intriguing contest
Finally, an often overlooked but interesting marketing technique is to organise a giveaway or run a contest.
By tempting them with the entertainment side of things and the possibility of winning a reward, you're capturing your audience's attention even when they don't really know much about you yet.
Because you'll probably ask them to share your post and tag someone to participate, new people will also find out about your brand.
No wonder contests have a 34% conversion rate!
These are some of the most effective ways to capitalise on when marketing a new business: once you clarify your USP and target audience, they can help you stand out against the biggest competitors!
Need a hand? At BeeBrilliant! we can take care of digital marketing for you, from SEO to content strategies to socials and much more.