Let's be honest: we all like to blow our own trumpet, but… do we actually enjoy listening to other people blow theirs? Err, not as much. It can be pretty annoying, truth be told. That's why you need content marketing to stand out!
Rather than making your business all about you, constantly advertising your products and services or telling your leads why your company is the best, you should start a two-way conversation focused on your target audience. Even better: one that brings value to them.
The easiest and most effective way to do so? Create a content marketing strategy through your company blog. If you can't think of what benefit it would bring you, don't worry: we've got 12.
12 benefits of content marketing
for your website and business
One of the things that we love the most about content marketing is that it's one of the most (if not the most) versatile marketing strategies: it can be adapted to any business and it will benefit it across several aspects.
1. It shows your audience that your business is all about them, not you
We're sure that your company is more than just a logo, a list of products or services, and a few ethos put together on your website. Make sure that your customers see this!
Content marketing is a great way to show them that you're there to make their life easier by offering them products that you've created specifically for them. Not just to make money and brag about your achievements!
Having an audience-oriented website and writing good blog posts that bring value to them is key to immediately show them that you're passionate about creating content just for them, and that you're open to having a two-way conversation about any topic that's related to your industry.
2. Google is going to love you for it
Each new blog post is also a new page on your website. Which makes it bigger. An average of 434% more indexed pages than those that don't blog, to be precise. And Google happens to love websites with lots of content (or, better, with excellent relevant content).
If a user is typing a succulent-related keyword, which website do you think search engines are going to show them: website A, that's just about the company's values and products, or website B, with dozens of articles on how to choose and care for prickly houseplants?
You can find the answer at the bottom of this page.
Just kidding. It's obviously B.
3. Content marketing allows you to target relevant long-tail keywords
With a recommended average of 1-15 keywords per page, there are only so many you can target on the main 'traditional' pages of your website. What if you could target more and show to both Google and your customers that you really know everything there is to know about your industry? Good news: you can.
Each blog post allows you to focus on a specific long-tail keyword that consists of 3 or more words.
For example, rather than competitive and more generic high-volume keywords like "sustainable clothes", you could write blog posts about relevant long-term variants such as "What does sustainable clothing mean?".
Users that are already interested in your industry but are trying to find out more about it will find your article when typing that query, learn more about sustainable clothing, and then realise that—oh, look! You happen to sell sustainable garments yourself. On this very website. Interesting.
4. It can result in many more backlinks
As you probably already know, backlinks are fantastic for SEO juices, but they aren't that easy to come across. After all, let's be realistic: who would want to link back to your About page?
It's not a coincidence that companies that actively blog on their website receive an average of 97% more inbound links than those that don't. Why? Because these blog posts are designed to bring value to their audience: it's only natural that someone out there who's writing an article about your industry will want to link back to the data, insights or practical tips that you've shared in your blog post.
5. Basically, that's why content marketing improves your website's SEO

By now, it won't come as a Sixth Sense-style plot twist, but let us say it louder for the people in the back: yes, one of the main benefits of content marketing is that it improves the SEO of your website.
That's because it results in lots of web pages, fresh content that's posted on a regular basis, more backlinks, more internal links, relevant long-tail keywords, and, in general, more website traffic. Not bad, right?
By ranking higher thanks to this continuous SEO boost, it will be much easier for your target audience to find you organically, without you having to spend hundreds of pounds in paid ads every other week.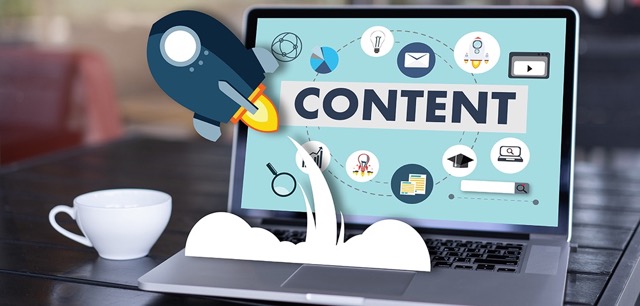 6. You can target customers at different stages of the sales funnel
The fact that you get to create so many new pages and target such a wide variety of relevant keywords ultimately means that you can also focus on each stage of the sales funnel, facilitating the buyer's journey.
You obviously need to know your target audience like the back of your hand, do some keyword research, and identify all the pain-points that they're trying to solve.
Once you've done that, you can start coming up with some article ideas that help them be more aware of your industry, some that allow them to understand what that thing that's been bugging them actually is, some that show them how your products can solve it, and some that direct them towards them.
It won't be like the choice that you have to make when you chuck some money towards your advertising efforts: once you've written the blog posts, they stay up on your website and can constantly be found by search engines whenever someone types a relevant keyword.
Basically, you're always targeting customers at different stages of the funnel without overwhelming them.
7. It gives you shareable content for your social media
Your blog posts aren't just for your website users to find. Content marketing is also a powerful tool to complement your social media strategy.
By sharing your blog posts on your social accounts you're going to reach even more people, especially when you create highly shareable content that they're likely to reblog or retweet themselves. Obviously, this will help you direct even more traffic to your website.
Plus, it gives you something different to post every once in a while, which never hurts!
Need help with your content marketing?
If you'd like to bolster your content production efforts with cost-effective, and successful tactic, contact us today.
8. …and your newsletter
While learning how to write an email marketing campaign that converts is still vital, you could spice up your communications with some previews and links to your best blog posts. Again, that won't be the one in which you're bragging about your new award (congrats, though), but the article that solves one of their pain-points, educates them about something they're interested in, or gives them valuable tips on that topic that intrigues them.
Not only does this give you more chances of directing people onto your website, but it shows them that you're passionate about creating high-quality content that brings value to them rather than just bombarding them with salesy emails and ads.
9. It helps you grow and retain your audience
Another reason why content marketing is so effective is that it goes beyond helping you generate leads online and build an audience that's passionate about what you do (or, better, what you can do for them). It helps you retain it, which is just as challenging.
In our bustling digital age, people are very selective with the brands that they engage with, and those dreaded 'unfollow' and 'unsubscribe' buttons are always a tap away. Luckily, churning out excellent content that's specifically crafted for them will make them want to stick around.
10. It results in 6x higher conversion rates
An effective content marketing strategy will also help you sell your products and services. The best marketing consultants can write blog posts that promote the benefits of a product or service without it sounding like an annoying or intrusive hard sell.
For example, if you offer a SaaS that consists of a collaborative project platform, it's only natural to link to it in an article that talks about the most effective ways to manage a remote team.
The result? Websites that incorporate a content marketing strategy have an average 2.9% conversion rate against the mere 0.5% of those that don't. Yep, that's almost 6 times more.
11. Why content marketing helps you build trust
Has your mum ever told you never to take sweets from a stranger? Mine too. Many others must have, because now customers are unlikely to buy from a company that they don't really trust.
So how do you convince them that you're a good guy and that they've got nothing to worry about when they hit that flashing 'Buy now' button?
Simple: you keep sharing industry-related content that positions you as a thought-leading expert in your field. You know everything there is to know about it. They can't go wrong with you. They'll take the sweets now, thank you very much.
12. It costs much less than traditional marketing
Unless you're trying to recreate that iconic scene from The Wolf of Wall Street, we doubt you enjoy throwing money to the wind. Luckily, content marketing costs 62% less than traditional outbound techniques (aka bombarding your audience with ads). It's crazy considering the tangible benefits of content marketing across several areas of your business, but we're certainly not complaining!
From retaining your audience to improving your website's SEO to converting more leads into sales, that's why you need content marketing if you truly want to stand out and be successful with your business. Don't miss out!
Start making the most of the benefits of content marketing! Get the best possible ROI with our tailored content marketing services. Tell us all about your business and get in touch today so that we can get started ASAP.