You're probably reading this because you searched for "SEO Wirral" or something similar on google. So, you found us based on a few words you typed into a search engine and our website listing popped up.
That's exactly what we can do for businesses based in and around Wirral. And in this article, we'll show you how we improve search engine optimisation on our clients' websites.
Here's how to secure top positions for terms your customers are googling.
Website stuck low down on Google search results?
We'd hazard a guess that you've already been searching for certain phrases related to your business and keep seeing competitor websites appearing, but not yours.
Of course, you'd like to join them (and preferably jump above them!).
If you're a local business seeking to attract more customers, then Wirral-specific SEO is the quickest way to accomplish that. It could be a great way to improve your online visibility.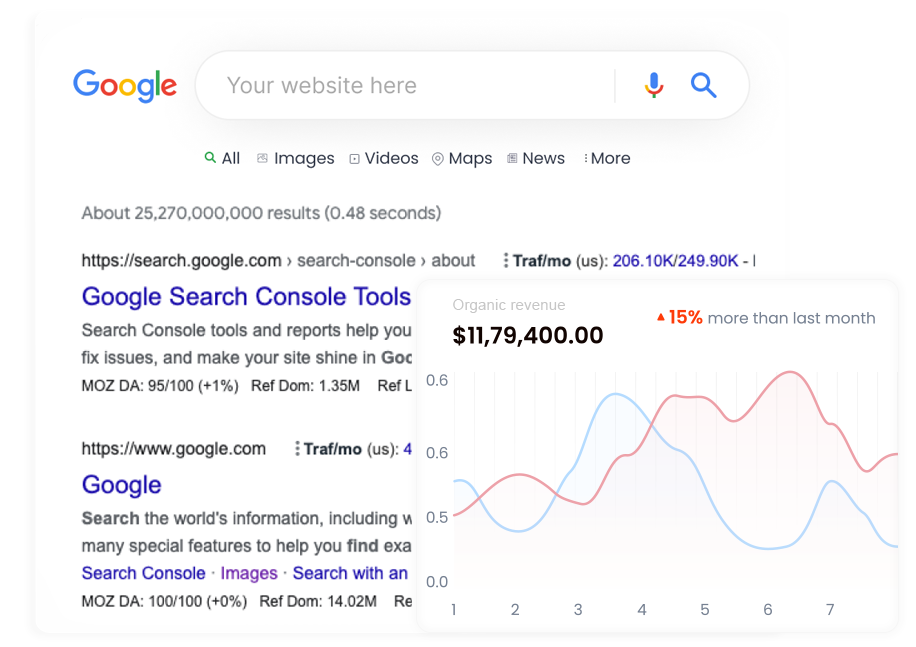 Say, for example, people google a service you offer, or your type of business (e.g. they search for something like "solicitors Wirral" or "plumbers near me").
You want to be at the top of the rankings when people search for those words, that's where SEO comes in.
What exactly is SEO anyway?
SEO stands for Search Engine Optimisation. It is the business of getting websites to rank for given searches that users make. When your customers search for something related to your product or service, you can attract them to your website through your appearance in google.
These results are considered "organic", meaning they are natural results.
Traffic coming from these organic listings is free, while traffic generated from PPC (Pay Per Click) ads is not free.
PPC ads are displayed above organic search results and feature a small 'ad' symbol to identify them.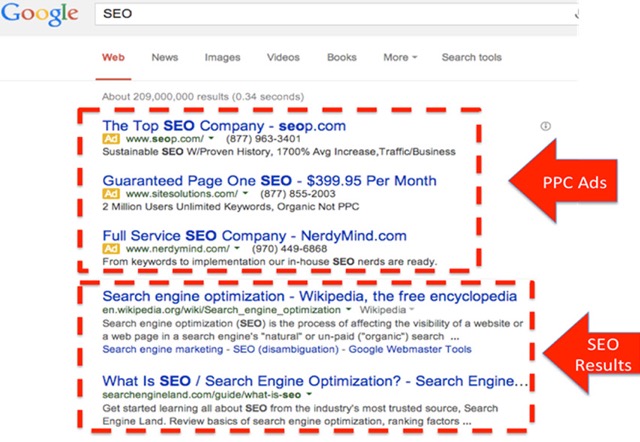 Whilst organic results appear under paid ads, they command greater trust from readers.
Getting your website or listing to appear in the coveted first and second positions of a SERP (search engine results page) depends on how well optimised your website is for search engines.
Executed correctly, your website can appear in search engine rankings for hundreds of keywords used by potential customers, but these rankings don't come easily!
Do I really need a Wirral SEO consultant for that?
In all honestly, you could do it yourself.
You could spend countless hours learning the ins and outs of advanced SEO techniques;
You could lose days researching key terms;
You could easily waste days reformatting the content on your website;
Or you could get an SEO expert to take a look!
There is real value in hiring an experienced SEO professional to improve your website performance. Google updates its algorithm hundreds of times per year. It can feel overwhelming to keep up with all these changes. Without a little outside help, your website is unlikely to ever reach its full potential.
With the majority of small business website traffic coming from organic search, it's worthwhile taking SEO seriously.
Case study: SEO support for a national reward provider
We achieved the following results for a well-known national supplier of corporate rewards.
The project included work on on-page SEO, link building, extensive content improvement and ongoing blogging. We conducted research on specific b2b key terms used by the target audience when searching for service providers. These then formed the basis for the subsequent SEO campaign.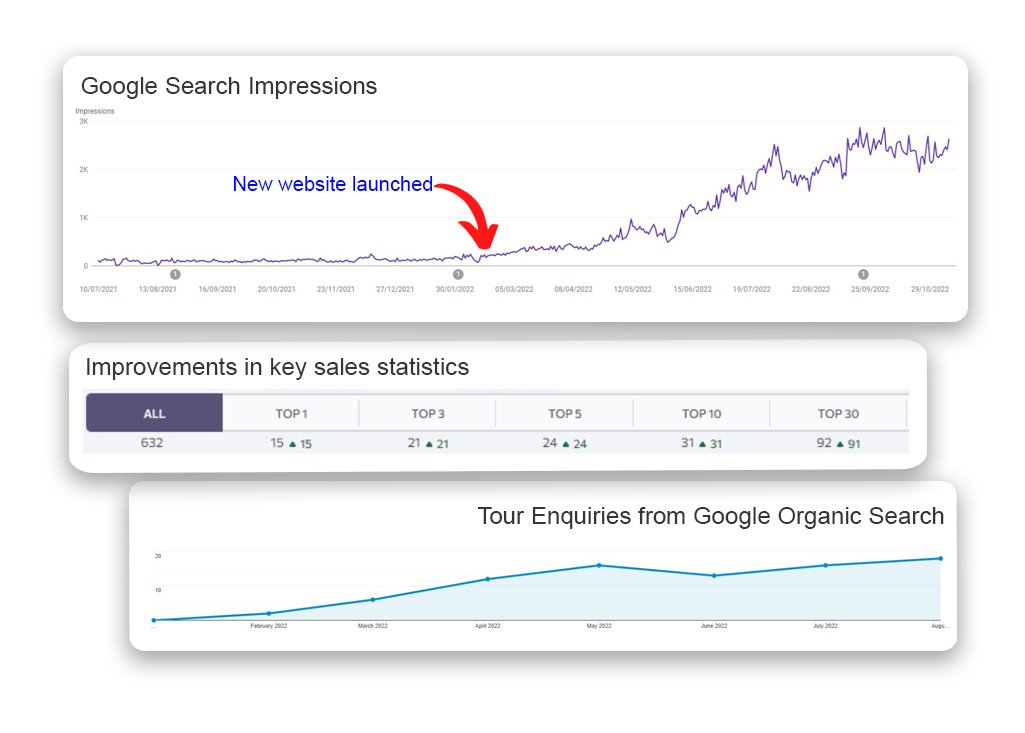 Attract customers to your website with search engine optimisation
How we work is to begin with your market, researching those search terms most often used when looking for the products or services you have to offer.
Bear in mind, that's just the beginning!
Here's what else our SEO experts can bring to your business…
We optimise your website code by looking at its technical makeup. Search Engines need to crawl and index pages. To do so, they must understand the context of website pages through effective coding. We add appropriate meta data, fix problematic pages and refine the background structure of your site.
We make changes to the formatting and content of your website. Our alterations ensure that it prioritises the keywords and phrases your customers are searching for. We then help Google to connect the dots.
We make your website fast, glitch-free and easy to use. This will mean that people are more likely to buy or make an enquiry. Google likes fast websites that deliver an exceptional customer experience.
We work with you to secure backlinks from other websites. When Google sees some other trusted websites linking to yours, it sees that as a vote of confidence and ranks you higher. We'll create content that earns links from others, bringing traffic and making your website an authority in your industry.
We use analytics tools to review customer behaviours when navigating your website. Then we help you to streamline the customer journey, optimising the users' experience. Google also likes websites that are easy to use.
We optimise your website content. This is otherwise known as developing a 'content strategy'. We find popular keywords that potential customers search for, and create useful topical pages based around those phrases.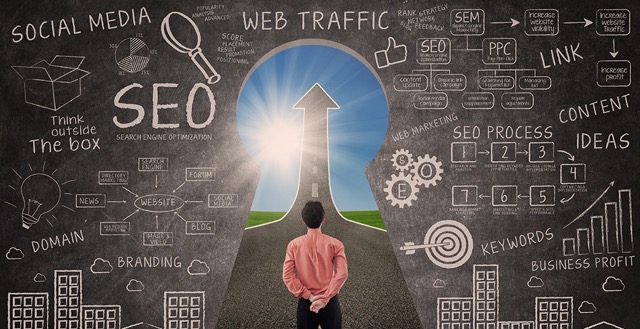 We pay careful consideration to factors broadly grouped as follows:
Onsite SEO
We make sure all of our clients' sites are search engine friendly so they can be found where they need to be seen.
Offsite SEO
We gain authority for our customers' sites by building relationships with highly relevant webmasters.
Technical SEO
Technical SEO consists of troubleshooting websites, analysing log files, recovering from penalties and performing link audits.
Link Building
The only way to build high quality 'white hat' ethical links, is through building relationships with key influencers.
---

Our guide to ensuring your business performs well on Google
Search engine optimisation, then, revolves around ensuring your website delivers what will make google happy.
The search giant provides information to help you create a good website experience for your customers. What it won't do is give you any detailed insight into how the algorithms determine who sits where in the rankings. So, to get ahead of your competition you must rely on the best practice advice that has been shared.
We know that poor content, gaps in quality links pointing to your site and unseen technical issues could all be holding back your site.
All these factors are going to have an impact on the ability of your website to rank on google. Often, once these are fixed, your website will rise to where people are guaranteed to see it – on the first page.
Here are some handy hints when reviewing your Wirral SEO strategy…
Use local search terms
Google has changed its algorithm significantly to reflect location-based searches. As a result, local businesses stand a genuine chance of competing with national companies in search results at a local level.
Local searches lead 50% of mobile users to visit stores within one day.
We target locally refined Wirral SEO keywords that are often searched for, giving your business the best possible chance of competing against others in the area.
Once we have researched keywords most likely to have just the right amount of competition for your brand, we then look at ways in which to use them.
Some strategies include using those keywords in Google Local or in online directories, but that is only one of the effective ways of getting found.
Devise link building strategies
Having backlinks pointing to your website from other websites are still a major aspect of Search Engine Optimisation.
Quite often, this can be done the wrong way. Building proper, industry-related links pointing to your website, being registered on high quality databases and not just spammy directories is the only way you can utilise backlinks to gain rankings within the search results.
Each geographical area is different, so we need to establish what competitors you have in the Wirral area, where they've sourced backlinks and out-rank them!
On-Page optimisation for national searches and Wirral specific terms
Simply building a website, putting it live and expecting it to show in the search engines just does not happen.
If only it were that simple!
On-page optimisation is what the search engines use to establish the most relevant content to display to the user. This means that your website must harness all the recent and up-to-date approaches to both get your website seen and maintain it.
The 'rules of play' constantly change. It's our job to keep on top of that on your behalf, so your business continues to enjoy great online exposure.
Amazing on-page optimisation alone will not cut the mustard in the world of SEO, but having everything ship shape on-page will give you a good solid foundation to work with.
Harness the power of 'Long Tail' key terms
Long tail keywords are three and four keyword phrases which are very, very specific to your product or service. And you may be surprised to learn that the majority of searches fall into this category.
You see, we've all become very online savvy.
So we know that the more refined we are with the search term we use, the more likely it is we'll find what we want quickly.
Whenever a customer uses a highly specific search phrase, they tend to be looking for exactly what they intend to buy (and soon).
Therefore, in most cases, such specific key term searches are far more likely to convert to sales than more generic searches.
These longer terms are also targeted at a smaller, more refined audiences. They present a prime opportunity to gather some 'quick wins' from 'low hanging fruit' (apologies for the cringe-worthy corporate management speak!).
Why?
Because they are geared toward the type of detailed research that consumers typically conduct prior to making a buying decision.
Get your technical SEO right
Most websites will have at least some technical issues that will impede performance in the search results. Yet without getting this right you simply won't have a suitable platform from which to build.
As the technical setup is the first thing to get right, this is where you should start. Go through everything in the backend of your website to ensure it is set up correctly to allow it to reach its maximum potential in the search results.
Some things to look out for include:
Slow page load speeds

Dodgy page redirects

Broken links (internal or external)

Poor formatting of Meta data

404 page errors

Duplicate content

Spammy links

Lack of key term focused page content
Technical SEO is often the least understood part of the process by business owners. It therefore often remains neglected.
But to ignore this will make things a whole lot harder. You see, hidden problems with your website setup may well undermine all your SEO efforts.
This is why we always carry out detailed checks before embarking on any new client project. We'll use the latest software to find anything that might be holding your website back in the search results. From page errors to meta problems, we'll find them and fix them.

We're here to act as your local Wirral SEO consultant
If you have a local business seeking to attract new customers through your door or encourage them to pick up the phone, then our Wirral SEO support services are the quickest way to accomplish that.