To offer your product or service to Polish audiences, you will need to ensure that your website can be found on search engines. This will mean taking an in depth look at SEO in Poland and getting to grips with the different requirements of Polish SEO.
You may have to adapt the way that you approach search engine optimisation to reflect the subtle nuances of the Polish language and the needs of potential customers in Poland. Here are a few hints and tips to get you started.
Before you do anything else
We would always recommend you carefully consider the following items, whether your goal is to improve SEO in Poland or anywhere else in the world.
Review your on-page optimisation.


If your site doesn't have the necessary optimised landing page content ready to go or isn't correctly formatted to help search engines crawl it, then you'll be on the back foot from day one.
Conduct research into off-page optimisation opportunities.


This could involve building links from trustworthy, authoritative, relevant and industry-related Polish websites, which will boost your domain authority. Keep in mind that the majority of publications worth their salt in Poland will likely charge you for an advertorial slot or listing on their site. So also seek out guest blogs willing to include backlinks in return for high quality content.
Perform keyword analysis.


If you're already active in Poland, then identify keywords that you may rank for and opportunities to increase your website rankings in Polish search engines. If you're just getting started, use Google's Keyword planner to determine which terms are regularly used in Poland for services like yours. Take extra time to ensure you are targeting the right keywords that your Polish-speaking audience are searching for. Remember, these might not be the same as those you've targeted for English-speaking users. Direct translation may not be possible, and Poles may use a synonym you hadn't previously considered to describe your product or service.
Check out your polish competitors.


Be sure to analyse your competitors to identify areas where they are perhaps slightly weaker, both in terms of their proposition and their own SEO efforts. Use a backlink checker to see which websites refer back to theirs, as there may be similar link building opportunities for you to capitalise on.
3 fundamental Polish SEO techniques
Improving your search engine optimisation in Poland and tailoring your products and services to a Polish audience can deliver significant returns. With 38 million people living in Poland and a further 21 million Poles living abroad, this is certainly an expansive pot of potential customers!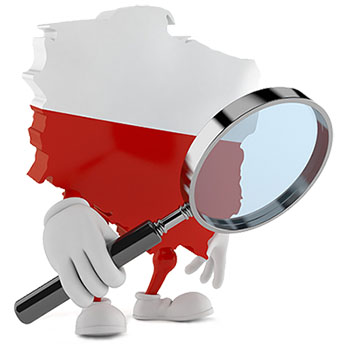 1.

 On-page optimisation in Poland can deliver results

Few websites in Poland have the essential on-page optimisation techniques in place that we take for granted in the UK and US. This is a consequence of the country benefiting from relatively good internet penetration but falling short on SEO knowledge. Therefore, performing a thorough SEO audit before you do anything else, and applying fixes as necessary, will stand you in good stead.

Correctly formatted on-page SEO can work wonders on google.pl, propelling a website to higher rankings. Google dominates in Poland, with a market share of 98.58% at time of writing this, so you should adopt the same SEO best practices as you'd use in the UK or US. The only difference is that you need to ensure your keywords are Polish, your ALT text is in Polish, and that all your meta titles and descriptions are Polish. A combination of English and Polish is a no-go, as Google will likely penalise you if you confuse it with a mish-mash of the two.
TIP
Pay particular attention to the basics, and make sure that you:

2.Simply translating your website into Polish won't be enough
Translating your website into Polish is often thought of as sufficient by businesses operating internationally. It will give you a presence in Poland and ensure that you can transact with Polish audiences. However, simply getting your existing website translated into Polish means that you will never feel like a truly local business. And people trust companies that they perceive to understand their issue first hand.
Our advice would always be to craft a Polish version of your website, written by a native Polish marketer, as different things make Polish people tick.
Localize your website content or fail to appeal.
Localization takes translation one step further and ensures that local idioms don't get lost in translation. Localization also takes cultural differences into account and incorporates an element of creative writing into the process too. By paying attention to localization of your content you will provide a better experience for visitors to you site, which will have a positive knock-on effect on factors such as time on site, bounce rate and conversion rate, as well as search rankings.

3. Robust keyword planning pays off
To rank well for terms relevant to your business in Poland, you'll need to make sure you've got plenty of quality, keyword rich content on your site.
By identifying popular keywords for Polish searchers, you can determine your website's information architecture. Of course, you can use tools such as Google's Keyword Planner and Google Trends to identify search volumes for your keywords. This will help you know which ones work best – but be sure to set a combination of both aspirational and realistic targets!
Unfortunately, you really shouldn't trust Google Translate to identify the keywords you should be targeting. Polish people search differently than English speakers do and often use terminology to describe a product or service that doesn't translate like-for-like. So, you really need to get under the skin of a Polish searcher and come up with new keywords based on what they'd look for.
TIP
Go long tail first.
If you don't have a small fortune to invest in your content marketing efforts, then focussing on 'long tail key terms' can be a shrewd move when first starting out.
If you build an SEO-oriented content development plan, based around the principle of long tail, then you'll maximise your ROI. After all, the vast majority of sales are generated through niche phrases that consist of three or more keywords. What's more, long-tail searches account for 70% of all web searches.
You can generate traffic from niche phrases by having several on a page, but it'll need careful planning and of course content should be optimised accordingly. Optimising each individual page with these niche phrases allows you to effectively promote your service to searchers with the most relevant query to your business, thereby maximising the chances of conversion to a lead/sale.
How long will it take?
The principle here is exactly the same no matter where you reside in the world. With consistent effort, you're looking at around 6 months to start seeing results. SEO is a long-term investment, so be wary of any agency that promises results overnight. However, it is an investment that really pays off.
You can help nudge things along be producing informative, high quality content, such as videos, guides and blogs. Regular content production definitely speeds things up, but make sure that your content is produced in Polish and will be of interest to a Polish audience.
Get some free advice on Polish SEO
The key to success in Poland is to be sure that your your brand/products can be found by relevant, local audiences. And the best way to achieve this is by investing in Polish SEO to secure a spot at the top of Google.